HISTORY OF FIESTA & HOMER LAUGHLIN POTTERY CO.

The Colorful Dinnerware that Captivated America
Fiesta was developed by Frederick Hurten Rhead during the mid 30's for Homer Laughlin Pottery Company in Newell West Virgina. In 1935 he would create the ware which would become the companies most popular and most collected line.

Rheads Fiesta would continue to be produced for almost 25 years until it was restyled in 1959 and replaced with Fiesta Ironstone which was discontinued in 1973. Fiesta ware with new colors was reintroduced in 1986 to celebrate to celebrate its 50th anniversary. Peak production for the company was in 1948 when they produced 10,129,449 dishes.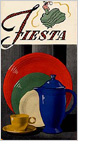 In January 1936 Homer Laughlin Company released Fiestaware in Red, Cobalt, Light Green (original green), Yellow and Ivory, with red actually costing more to produce, and turquoise not to come along until slightly later.
"The new idea in American dinnerware is Fiesta–in five lovely colors of Green, Yellow, Blue, Old Ivory, and Red–all brilliant and cheerful. Smart sophisticated services of rich color and beauty! A California fashion that has swept the nation."
The first items produced were:

A year later turquoise was added to the original five colors and the first piece, the 12" compartment plate, was discontinued. Near the end of '37 the covered onion soup bowl would be dropped as well.
At least by Christmas of 1938 Homer Laughlin had expanded the fiesta line with :
In the fall of 1939 the stick handled creamer was replaced with the nd Fiesta cranked on and on.


During the 40's Fiesta promoted their 7 piece Juice Set
"imagine getting this smart, new 7-piece set of genuine Fiesta pottery with all its color, charm and usefulness–for so little! ($1) "
HLCo dropped the tripod candle holders, the Demitasse coffeepot & the 10" and 12" vases in the fall of 1942. In '43 the government needed the Uranium that was used to make the red glaze, so red dropped from the scene until 1959. During the war years, Homer Laughlin continued to slash pieces - the footed salad bowl, the 11 1/2 fruit bowl, the bud vase , bulb candle holders, carafe, 12" compote, sweets compote, marmalade and mustard, ice pitcher, 9 1/2" nappy, relish tray, large teapot, 10oz. tumbler and utility tray 8" vase, were axed.



Homer Laughlin kept the ball rolling and knocked out cobalt, green and ivory in the first year of the 50's and introduced some very different colors– forest green, chartreuse, rose and grey. By the end of the decade red was back in and medium green was added (1959), but the other 50's colors were done along with more piecies– 15" chop plate, Demitasse cups & saucers, the coffeepot, 10 1/2" compatrment plate , cream soups, egg cups, 4 3/4" fruit bowl and the 2 pint jug. But just to keep the ball rolling they put out the individual salad bowl.


The 60's for Fiesta were dull. Early on they dropped the 6" dessert bowl but then left everything alone until they totally restyled their line in 1969 and put out Ironstone. They kept the original red going, but cut the entire line down to 19 pieces. Antique Gold and Turf Green were added and many of the molds changed shape. They tried this stuff for a few years but called it quits at the end of 1972.
Order of Pieces dropped :
12"Compartment (divided) plate
Covered Onion Soup Bowl
Stick Handled Creamer
Tripod Candle Holders
Demitasse Coffee Pot
10" & 12" Vases
(Red from 1943-1959)
Footed Salad Bowl
11 1/2" Fruit Bowl
Bud Vase
Bulb Candle Holders
Carafe
12" Compote
Sweets Compote
Marmalade
Mustard
Ice Pitcher
9 1/2" Nappy
Relish Tray
Large Teapot
10oz. Tumbler
Utility Tray
8" Vase
----------------
1950s (late)
----------------
15" Chop Plate
Demitasse Cups & Saucers
Coffeepot
10 1/2" Divided Plate
Cream Soup
Egg Cup
4 3/4" Fruit Bowl
2 Pint Jug
Of course Fiesta was reintroduced in 1986 and is going strong today. But this concludes the tour. On to the gallery...