The most popular American dinnerware ever, designed by the Englishman, Frederick Hurten Rhead, was introduced to the American public in 1936 by the Homer Laughlin Pottery Company of Newell, West Virgina. Rheads original Fiesta

ware line roared through production for a little more than twenty years before it was modified, reduced and eventually discontinued by the end of 1972.



Rheads Fiesta

pottery line would continue to be produced for almost 25 years until it was restyled in 1959 and replaced with Fiesta

Ironstone which was discontinued in 1973. Fiesta

dinnerware was reintroduced in 1986 to celebrate its 50th anniversary, with many new pieces and some familiar faces. Although Post-86 (as it's called) Fiesta

ware has its own strong following, the Vintage Fiesta

pottery that more or less drew to a close near the beginning of the 60s was of a whole different calibar.
It's amazing and frustrating that a pottery line that produced 10,129,449 pieces in 1948 alone can be so hard to find a mere 50+ years later.
Fiesta

ware was originally introduced in just 5 colors, Red (it may look orange, but everyone seems to have agreed to keep with its original name of "red"), Blue (cobalt now), Green (light or original green), Yellow and Old Ivory (simply ivory now), with Turquoise not hitting the shelves until 1937.
"The new idea in American dinnerware is Fiesta–in five lovely colors of Green, Yellow, Blue, Old Ivory, and Red–all brilliant and cheerful. Smart sophisticated services of rich color and beauty! A California fashion that has swept the nation."
1936: A FIESTA POTTERY TIME LINE...
The First 34 Fiesta

Pottery Pieces:
Within a Year, a Couple of Early Deaths:
The first piece given the boot was the 12" compartment plate (it was dropped before turquoise came along, so you won't find one in turquoise - try as you might - and if you have please contact me!). These won't ever be marked- many of these early pieces weren't marked. The ink stamp "GENUINE fiesta" came later, which explains why so many plates aren't marked, although the lower case "fiesta HLC USA" or "fiesta MADE IN USA" was molded and indented into many of the first pieces. There were quickly modifications to some pieces of the line (the sugar bowl, teacups, utility trays, the creamer, the nesting bowls, the ashtrays- they all underwent slight modifications early on). These early pieces are highly coveted with serious collectors.

Near the end of 1937 the covered onion soup bowl would be dropped as well.Turquoise being added right before the onion soup bowl was discontinued explains why those little bowls are so rare and valuable.

THE ROARING '30S
17 More Pieces for Christmas:
In the fall of 1939 the stick handled creamer was replaced with the regular ring handled version, and production of Fiesta

ware cranked on and on.
During the 40's Homer Laughlin released a Fiesta

promotion - a 7 piece Juice Set
"imagine getting this smart, new 7-piece set of genuine Fiesta pottery with all its color, charm and usefulness–for so little! ($1) "

1942: 5 years into production:
Homer Laughlin Co dropped the tripod candle holders, the stick handled demitasse coffeepot & the 10" and 12" vases '
1943-1959: Red Disappears for 16 Years


The government needed the Uranium that was used to make the red glaze during World War Two, so red was given up for the war effort, until March of 1959, when you could once again purchase uranium oxide in the hills of West Virginia. During the war years, Homer Laughlin continued to slash pieces - the footed salad bowl, the 11 1/2 fruit bowl, the bud vase , bulb candle holders, carafe, 12" compote, sweets compote, marmalade and mustard, ice pitcher, 9 1/2" nappy, relish tray, large teapot, 10oz. tumbler the utility tray, and the 8" vase, were dropped from the line.
1950's: The New Colors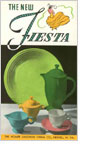 During the fall of 1951 some very new and modern colors were brought in, retiring cobalt, green and ivory. An entirely new pallette of forest green, chartreuse, rose and grey brought in a whole new look and feel. These colors were destined to only have a short life before Fiesta

pottery would whimper away at the end of the 60s, thus the reason for the high price difference on pieces in these colors.
1959: The End of the Decade...
By the end of the decade red was back in and the eleventh color to date, medium green, was introduced. In 1969 the entire line was restyled - thus making the few last pieces around in medium green much more scarce than most all other fiestaware), but the other 50's colors were done along with more piecies– 15" chop plate, Demitasse cups & saucers, the coffeepot, 10 1/2" compatrment plate , cream soups, egg cups, 4 3/4" fruit bowl and the 2 pint jug. But just to keep the ball rolling they put out the individual salad bowl. (This piece was only made in Red, Medium Green, Yellow and Turquoise- the last bastillon of the Fiesta colors).

The 60's and Into the End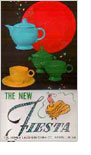 The 60's marked the end for Fiesta

pottery- the greatest American dinnerware either lost its appeal or was a victim of poor marketing. Early on they dropped the 6" dessert bowl but then left everything alone until they totally restyled their line in 1969 and put out Ironstone. They kept the original red going, but cut the entire line down to 19 pieces. Antique Gold and Turf Green were added and many of the molds changed shape. They tried this stuff for a few years but called it quits at the end of 1972. So really, if you want to be ahead of the curve go ahead and build your collection of Turf Green fiesta now while it's still affordable - it was after all only made for a few years... but sadly it is so '70s...
ORDER OF PIECES DROPPED FROM THE FIESTA

POTTERY LINE:
12"Compartment (divided) plate | Covered Onion Soup Bowl | Stick Handled Creamer | Tripod Candle Holders | Demitasse Coffee Pot | 10" & 12" Vases | (Red from 1943-1959) | Footed Salad Bowl | 11 1/2" Fruit Bowl | Bud Vase | Bulb Candle Holders | Carafe | 12" Compote | Sweets Compote | Marmalade | Mustard | Ice Pitcher | 9 1/2" Nappy | Relish Tray | Large Teapot | 10oz. Tumbler | Utility Tray | 8" Vase
----------------
1950s (late)
----------------
15" Chop Plate | Demitasse Cups & Saucers | Coffeepot
10 1/2" Divided Plate | Cream Soup | Egg Cup | 4 3/4" Fruit Bowl | 2 Pint Jug
Of course Fiesta

dinnerware was reintroduced in 1986 and is going strong today. But this concludes our brief history lesson. On to the gallery...